Inch by Inch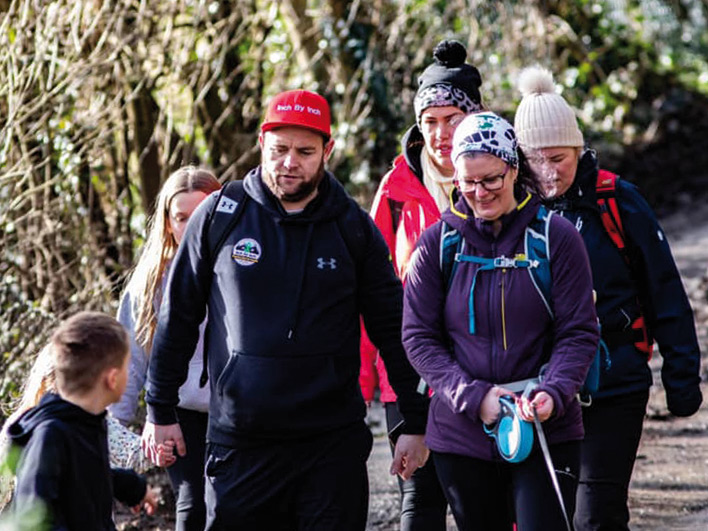 Local man Rhys Jones had been struggling with anxiety and depression for most of his life, at one point even considering taking his own life.
When counselling didn't help him, he decided to take matters into his own hands. Realising that he found it easier to talk when no-one was around, Rhys started to make videos on his mobile phone, talking honestly about how he was feeling. After posting the videos online, he started to receive lots of messages of support but also lots of messages from people in a similar situation.
Darren Waters, an old acquaintance, saw Rhys' videos and messaged him offering his support and encouragement. As an ex-rugby player, he offered to train with Rhys and the training sessions had a massive impact on Rhys' mental health. Realising the positive effect that exercise was having on him, Rhys decided to try and help other people in the same way by starting a walking and talking group, where people could join him to get out in the fresh air and walk in silence, or open up and talk when they felt comfortable to do so.
On the first organised walk, Rhys was joined by another local man Justin Morgan, and since then the popularity of the event has increased with between 30-50 people taking part each time. Both Justin and Darren have remained involved and now help to run Inch by Inch alongside Rhys.
Rhys is currently registering Inch by Inch as a charity and has been looking to local businesses for sponsorship. Craig Thomas from Autotech, has recently gifted the group a mini bus to help people get out and about and the group are now organising sponsored walks and wheelchair walks in order to raise money to buy BU benches (anti-suicide prevention benches) that contain contact information for local help groups The Samaritans, Suicide Prevention and Inch by Inch.
The group currently run beginner walks once a week between 1–2 miles and more challenging walks between 6–12 miles three times a month, they also run walks that are suitable for wheelchair users. Each walk is a social event with members often taking their families along with a picnic, making a campfire and just enjoying the outdoors together. There are also plans being put in place to create allotments for people to use in-between walks as outdoor therapy centres.
Inch by Inch have long term plans of organising retreats for people and their families. For more information on the charity, how to get involved and how to donate, please visit their Facebook, Twitter or Instagram pages.
We have been advertising now with The Village Directory for four years. We only advertise here as we found the work generated from our advertisement was tremendous. We have now increased our advertising with The Village Directory in other areas because of the service provided — Nicola Pemberton

Oven Magic Wales
your local village magazine...