Mother's Day Breakfast
My daughters love to treat me to breakfast on Mother's Day. Their favourite breakfast without doubt is Pancakes, here is an easy version that even the youngest of the family can get involved with! Either serve it as breakfast in bed on a pretty tray with a napkin, or lay the table for the whole family, perhaps the children could decorate the table with bunting or a vase of flowers for a special treat!
Breakfast Pancakes (Serves 4)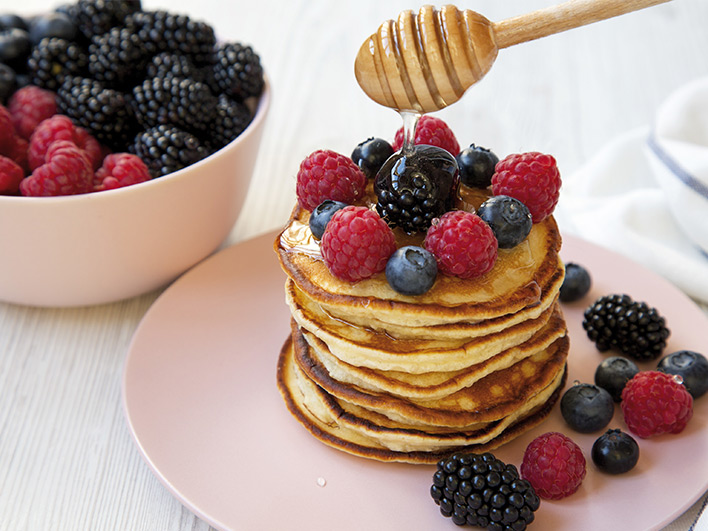 What you need:
1 large egg, 1 mug of self-raising flour*, 1 mug of milk*, sprinkle of salt, butter for cooking & add your choice of toppings.
*Any standard size mug will be ok, just make sure that you use the same mug to measure both the flour and the milk.
Topping Choices:
Blueberries, raspberries, strawberries, banana, melon, grapes, honey, syrup, yoghurt & lemon.
How you do it:
01.

Wash, dry & chop your chosen fruit into bit size pieces, serve in a serving bowl to accompany your pancakes.

02.

Prepare any toppings that you may have chosen — e.g. Cut lemon into wedges, decant yoghurt into a serving bowl, place syrups etc onto the table ready.

03.

Break the egg into a large mixing bowl, add your flour, milk & salt & whisk everything together until you have a lovely smooth batter (by hand or using an electric whisk).

04.

Put a large frying pan or 2 smaller ones onto a medium heat & add a knob of butter to melt. Swirl the butter around the frying pan until it coats the bottom, & when it is hot use a ladle to spoon the batter into the pan — each ladle will make one small pancake, so there should be room to cook more than one at a time in the pan.

05.

When the bottom of the pancake is golden brown, & you see bubbles forming on the top use a spatula to turn them over — they usually only take a couple of minutes on each side. When cooked transfer to a plate & keep in a warm place, then carefully wipe the pan with some kitchen paper (definitely a job for an adult) & add another knob of butter & start the whole process over again. Keep going until all the batter has been used.

06.

Serve the pancakes with the fresh fruit, & your choice of toppings.
Using The Village Directory is a great way to advertise to the local community. The handy sized booklet is professionally presented and the team are fantastic to work with — Lee Ramsay

Dyno Rod
your local village magazine...